Safety is a key factor for any driver or fleet operator.
A safe driver or fleet operator is the cornerstone of any heavy transport business because safety impacts every area of the company, from staff morale and customer retention, to operational costs, vehicle downtime and wear and tear.
According to the Road Transport Forum (RTF), New Zealand has seen massive improvements in heavy vehicle safety since the mid-1990s. Despite a huge increase in both the number of trucks on the roads, and the total distance travelled, the number of fatal accidents involving heavy vehicles is now just one-third the level it was in 1995.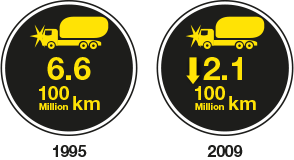 The RTF website states that: "Truck-related fatal crashes dropped from 6.6 per 100 million km in 1995 to 2.1 per 100 million km in 2009."
This is obviously great news for everyone in the industry, and for road users in general.
The Government's 2014 National Freight Demands Study predicts that total domestic freight will increase from 236 million tonnes to 373 million tonnes between 2012 and 2042, a growth of 58%.
There's no doubt that this added volume will be noticed by the average motorist, with potential negative public relations effects for the industry, especially in these increasingly environmentally conscious and risk-averse times.
The solution to this dilemma is not just to keep improving overall safety, that's obviously vital. But it's also important to let other road users know that safety is a major focus, not only for the wider industry but specifically for drivers and fleet operators.
Increased safety translates into higher productivity and better overall efficiency, along with some less tangible, but equally powerful benefits. For example, a fleet with reduced accident rates and a lower incidence of speeding would be more productive, but it'd also be a far more attractive proposition to your current and potential clients, along with your employees.

Speeding related incidents are down by a massive 80%.

In just one year, TR Driver Training Services reduced our clients' accident rates by 40%.
This is reflected in reduced maintenance bills, lower vehicle wear and tear, decreased driver fatigue, and improved job satisfaction. TR Driver Training Services will improve your heavy vehicle fleet's safety and performance across the board, creating permanent change in your organisation.